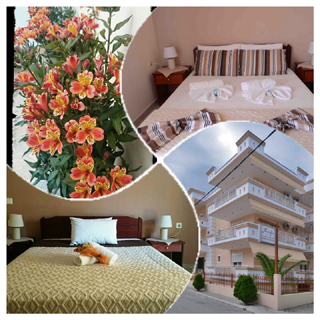 In Leptokarya Pieria

"Charikleia" welcomes you in Leptokaria and offers you a pleasant stay in a warm and friendly environmen, just 30 meters from the sea!

Leptokarya
Due to its location, Leptokarya will be for you an opportunity for long journeys and new experiences. Our region is closely connected with important pieces of history such as ancient Livithra, where the grave of Orpheus who is honored every year by the inhabitants of the region on Carnival Sunday where his death by the Maenads is revived. Also just 5 km from the coast you will find the Old hazelnuts dominated by the church of St. Nicholas and the church of the Holy Trinity.
In the area it will also move you interest the magnetic field and will surely succumb to temptation and make a test. Just outside of Leptokarya in Litohoro area, you can start your own mountaineering adventure starting the hike up the Prionia, but also for the more brave right to the top of Olympus! In the region you can visit the canyon Enipeas a place of special beauty that will overwhelm you.
Then for art lovers, the visitors have the opportunity to attend Dion-Olympus festival which held every year and within each one can observe ancient tragedy and newest theater and also to hear beloved Greek artists in concerts given in the imposing ancient theater. Finally, the visitors of the region should not depart from Pieria if not admire the castle of Platamonas and experience the vast beaches of Resources, a route that can be done pleasantly by bicycle!